Phew! I am ridiculously proud of myself for completing this bag. Actually, instead of calling it a bag, it really should be called "luggage." With an Amy Butler pattern, there should be no surprise that this thing is HUGE. I've seen them in person before, but when I finally made my own, it finally became clear how big the Weekender pattern really is.
I chose fabrics for this project 44 weeks ago and let it sit for a long time. Later, post-baby, I
goofed
on some fabric/color choices and my project took a whole different direction. The fabrics I did end up using include: Echino Decoro prints (some stash favorites long overdue to be used!), Moda Mochi Linen Dot, and Canvas Duck Cloth from Joanns.
Unfortunately, the deer got totally covered by the straps on this side of the bag:
I made a point to get the deer wearing red glasses on both side pockets:
This bag was a popular project in a few years ago. By being late to the party, I had the advantage of being able to review several blogger's "tips and tricks" posts. I'd like to contribute my thoughts on how to make this bag an easier sewing experience:
The instructions ask you to attach peltex to nearly every piece of the bag to provide stability. For many sewers, this has resulted in a thinner wallet, broken needles, and many unfinished weekenders. Stability and structure can be achieved without the peltex.
Make the bag pieces with a layer of canvas, batting scraps, and your chosen exterior fabric, ala this method. Make your pieces a little bigger than the finished pattern piece size because distortion will happen with the quilting.
Don't skip the piping. I've seen a few weekenders without it and you just don't get that handmade/polished look.
Yes, installing and dealing with the piping is a pain in the butt. Make it easier on yourself by buying the piping if possible.
Sew the piping onto the exterior pieces with a thread that matches the piping but contrasts with the canvas interior layer (thus, choose your canvas or duck cloth color with care). By doing this, you will have any easy guide to follow when you are assembling the bag all together, as you'd like to sew very close to the piping to make it pop along the seams of the bag and you can just parallel, very closely, the thread line that attached the piping to the exterior.
It's one extra step, but next time, I am going to sew the raw edge of the piping to the exterior pieces, after the piping has been attached the traditional way. When I assembled the bag, the piping would get bunched up and pop through seams many times. This was NOT fun to seam rip and fix multiple times, this could have been avoided if all parts of the piping were firmly attached to the bag.
The directions instruct you to pin the zipper to the bag gusset and sew it from the exterior on top. Instead, I used 1/4" washable tape to attach my zipper to the gusset and sewed directly on the zipper (wrong side up) and it came out really nice. I felt like it was too much guesswork to rely on pins and sewing on the top of the panels, hoping to precisely catch the zipper without seeing it.
I increased the strap dimensions significantly. I worked with a scrap piece of fabric to see what I thought would work for me before I cut into the duck cloth. I also put a thick scrap piece of batting in each scrap to help with cushioning. I love this pattern but I think the skinny straps are silly for such a big bag that is meant to carry a lot.
A big thanks to
Le Challenge
, whose theme this month is "wilderness." This was just the motivation I needed to finish up this nearly year-long project. Can you get more wild than non-domestic animals posing in picture frames and wearing glasses? I think not.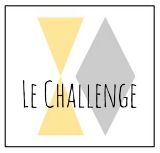 Total stash fabric used in this post: 3.5 yard
Total stash fabric used since 1/1/15: 77 yards
Total stash fabric used to date: 80.5 yards
Also linking up to Finish it up Friday at
Crazy Mom Quilts
.