A while ago I approached my friend
Sarah
about doing a private mini quilt swap with each other. She's kept in touch since moving away from the Boston area and I've really enjoyed our friendship. We met at the BMQG about 3 years ago and I thought it would be meaningful to have something made from a good friend to hang in my sewing room. My walls are SO bare in there and it's shameful!
Our taste in fabric is pretty different. She loves all things yellow and doesn't go near pink or red very much. Pink and red are my favorite colors and I love Anna Maria Horner fabrics. She mentioned liking Kate Spain and Lizzy House. Lizzy House fabrics were an easy starting point for me. I have almost every print from her collections, so I whipped up a little economy block mini:
I felt nervous that this would be good because it wasn't as complicated/time intensive as a lot of the minis you see for swaps on blogs and IG. I also doubted my choice of using the color brown, as that is not a very rarely a popular color choice among modern quilters. But I felt like if I didn't have a few very dark fabrics, the design wouldn't "pop" and the whole thing might look washed out.
I also made some extras for Sarah with some yellow fabrics I had in my stash; a large open wide zip pouch and a Sew Together Bag. I think I've made about five Sew Together bags and this last one probably gave me the hardest time of all! Imagine my shock when she received two Sew Together Bags from friends prior to our swap deadline, after I had made this especially for her! She is so loved, she had three different friends willing to make one of the most difficult and time intensive zip bags for her - did I mention she now has three?!
On Instagram, I saw sneak peaks of Sarah's mini she was working on for me and I was excited:
Isn't it gorgeous?! She really nailed it. I love the choice of fabrics and the color scheme. I love the design. (
This quilt
is one of my all time favorites from the blogosphere).
I wanted to share close ups of the amazing free motion quilting. This girl has skills!
Sarah also generously provided lots of extras - including clothing for the baby and bubble wands and candy for my kids. That night, after I had received her package, I literally had a dream that we got in an argument because she was upset that her package to me was better than what I had sent to her! I emailed her about it and we had a good laugh. But seriously, she was extremely generous.
Linking up with this month's Le Challenge for the word, "passion." There's lots of ways this post and these sewn items relate to passion. It was passion for this craft that has led me to include guild participation as a priority in my busy life. Meeting people like Sarah has been the best part of that decision- it really is all about the connections you make with people and it's more than fun to share enthusiasm for the same hobby together. I also have to say that my appreciation and enthusiasm for different designer's fabrics keeps me hooked too. If I only had the fabric choices that traditional shops catered to, I really doubt I would be sewing much at all. I have known to go "fangirl" for specific designers and that is so un-cool, but oh well. People like Anna Maria Horner, Lizzy House, Amy Butler, Ann Kelle, and Joel Dewberry have really changed the fabric world and I love it!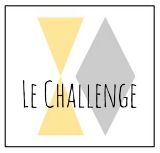 Total stash fabric used in this post: 1 yard
Total stash fabric used since 1/1/15: 24 yards
Total stash fabric used to date: 25 yards